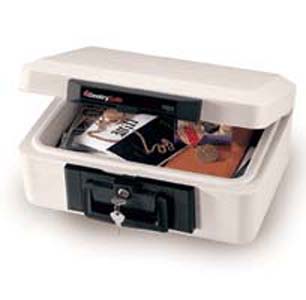 By:
Rebecca Irvine


A true story that unraveled last night.
Christmas this past year was mediocre for my mother. Not terrible, but not great either. Some family members were not speaking to each other, which made get-togethers uncomfortable or altogether impossible. And work was a very busy month for her, as well. It was mid-December before her tree was up and a week later before it was decorated.
But one of the more disappointing things for her was the lack of a thoughtful gift from my father. There was the usual line of his annually given gifts under the tree: Oil of Olay, some bath beads, and other niceties that Mom had come to expect. But the big box under the tree--the one she had wondered about the most as she eyed the wrapping paper and the sloppy bow--turned out to be a let down.
It was a safe. A fire-proof, water-proof safe with both key and combination locks.
When she had first opened it she was definitely surprised. But it was more like the surprise of expecting Tiffany's and actually getting Tupperware. "Oooo," Mom said half convincingly as she tore the paper from the box.
Mom handled it well. At least for the first week. After the New Year Dad asked her where she would like him to put the safe (it had been sitting in its box by the tree for more than a week by then). She told him to put it in the garage and that he could bolt it down to something out there if he wanted. But Dad left it sitting in the living room by a few other gifts Mom was neglecting to put away.
A few more weeks passed and life got busy again. Work picked up, new church callings were received, and there was even trip out-of-state. Christmas decorations were put away somehow during all of the in and outs of daily life. But there the safe sat in the living room, still unopened in its box.
"You can return it," Dad told her.
"No," said Mom. Although it was not a gift she wanted, Mom would not hurt his feelings by returning it. Surely she could find some use for it.
Finally the last day of January arrived. After dinner Dad brought the boxed safe to the kitchen table. He gave a knife to his visiting granddaughter to open the box. Mom rolled her eyes.
"What's with the safe?" I asked.
"Your father bought it for me for Christmas," Mom said as she shook her head in pity for herself.
Finally it was removed from the box. The black heavy safe, somewhat larger than a briefcase, looked sturdy and reliable.
Mom turned it around and opened it to inspect its workings. To her surprise another gift lay inside. A small black jewelry box in a gift bag! She opened it to find ruby and diamond earrings, bright and shiny against the black velvet.
"What is this?" Mom asked Dad in amazement.
"Since when have you ever had a Christmas when I haven't given you a piece of jewelry?" Dad asked. "Merry Christmas!"